STEVE BARCLAY has enjoyed playing theatres throughout the land alongside many of the top stars of show business, among them such legends as DANNY LA RUE OBE, SIR NORMAN WISDOM, ROY HUDD, RICK WAKEMAN, KATRINA AND THE WAVES and many others in a star-studded kaleidoscope of entertainment icons. Steve has been delighted to play countless major theatres including the Swansea Grand, Bristol Hippodrome, Leeds City Varieties and even the world famous London Palladium.
In addition, it's been a hard life for Steve as an entertainer cruising in the sunshine of the Caribbean, the Mediterranean and other fantastic parts of the world, entertaining passengers on the ocean wave delighting them with his special brand of stand-up comedy, zany impressions and music - with some mean ukulele playing thrown in for good measure!
Steve is also legendary in show business as an accomplished pantomime dame who made his frock debut at the Derngate theatre, Northampton and has since played various dames at the Theatre Royal Hanley, HFC Truro and other UK theatres. More recently Steve played Dame Widow Twankey to tremendous popular acclaim at the Lincoln Theatre Royal with Cannon and Ball.
Steve Barclay is a one-off - as Max Miller said "There'll never be another' - and his ONE MAN SHOWS and AFTER DINNER PRESENTATIONS have had fantastic success throughout the UK and overseas, offering top class entertainment with wide audience appeal, the show tailored to any audience or management requirements.
"With Steve Barclay you don't just get one star - you get a whole stage full of them, rolled into one great talent." - KEN DODD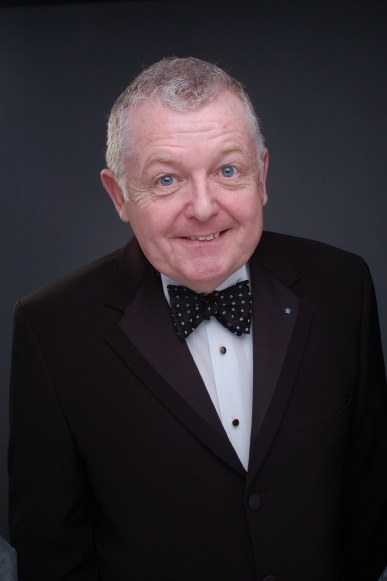 Stage struck from an early age, Steve Barclay only ever really wanted to do one thing in life – and he did it. His heroes were up there on the stage and by sheer hard work and an eagerness to learn it was not long before he was up there with them.
A very popular and celebrated figure within show business. A proud member of the Grand Order Of Water Rats and world famous Chelsea Lodge.
Steve Barclay speaks with charismatic authority about show business, with very funny anecdotes and stories.
Steve Barclay is one of the first names demanded whenever a major star is going on a theatre tour in the UK and often overseas. How did Steve achieve his goals? What highs and lows did he experience on this amazing journey that he is still having?
He might be Unknown To Millions but those who know him, love him and you will too when you have listened to him in this highly entertaining and informative after dinner or lunch time speech. Steve has just published his autobiography titled UNKNOWN TO MILLIONS.

By STEVE BARCLAY
A SPEAKER FOR ANY OCCASION