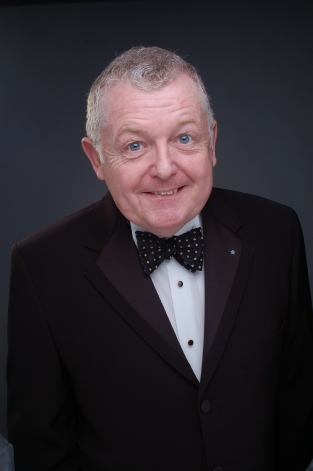 STEVE BARCLAY has enjoyed playing Cabaret dates throughout the land alongside many of the top stars of show business, among them such legends as DANNY LA RUE OBE, RICK WAKEMAN, KATRINA AND THE WAVES, THE DRIFTERS, THE BEE GEES and many others in a star-studded kaleidoscope of entertainment icons.
Steve has been delighted to play countless major cabaret theatre clubs including Ceasers palace Luton, Savas Usk the Bailey circuit, and even the world famous Playboy clubs.
In addition, it's been a hard life for Steve as a comedy entertainer cruising in the sunshine of the Caribbean, the Mediterranean and other fantastic parts of the world, entertaining passengers on the ocean wave delighting them with his special brand of stand-up comedy, zany impressions, swinging jazz vocals and ukulele thrown in for good measure!

Steve Barclay is a one-off - as Max Miller said "There'll never be another' - and his ONE MAN SHOWS and CABARET EVENTS have had fantastic success throughout the UK and overseas, offering top class entertainment with wide audience appeal, all shows tailored to any audience or management requirements.
At present Steve is busy touring some of the finest venues in the UK with his COMEDY STAND UP, CABARET & AFTER DINNER presentations and ONE MAN SHOWS. For SWINGING LAUGHTER CABARET look no further than STEVE BARCLAY the undoubted KING OF THE SWINGING CABARET FLOOR.
Steve Barclay is a very proud member of the legendary show business fraternity the Grand Order of Water Rats (GOWR), and A must see corporate entertainer.