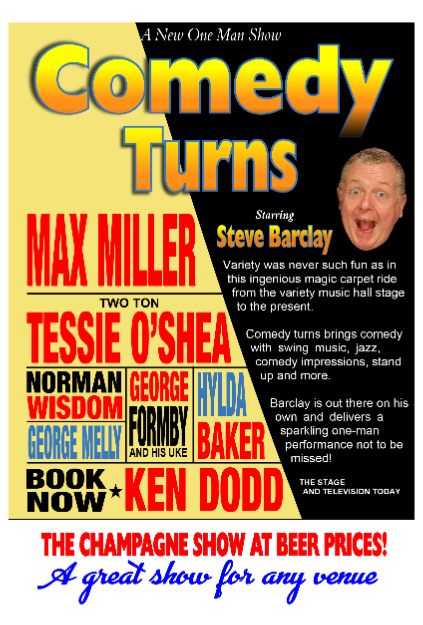 And now for something completely different. Written, produced and directed by play write Stephen Taylor this is a performance that is perfect for small venues but, with the right set and lighting could also grace the largest of stages. What is it? Comedy Turns. It stars - Steve Barclay.
Yes, it is a one-man show with some assistance from an old ventriloquist dummy's head! Unlike many one-man shows, this one runs the full afternoon or evening and the 85% audience was simply spellbound, standing as one at the end to acclaim this excellent production.
Steve Barclay holds his audience masterfully and you can never be absolutely sure what is coming next. Steve Barclay who has been around for some years as comic, impressionist, singer and comedy actor. Now he has exposed another layer of talent with clever writing, a great concept and tremendous on-stage presence.
Comedy Turns is set to tour the country - it is one not to miss if you want an unusual theatre entertainment experience.
Variety was never such fun as in this ingenious magic carpet ride from the variety stage to present cabaret!
Barclay is out there on his own and delivers a sparkling one-man performance
Not to be missed.